PRIVACY STATEMENT
Web Trading Company respects the privacy of all users of its site and ensures that the personal information you provide to us is treated confidentially. We use your data to process orders as quickly and easily as possible. Otherwise, we will only use this information with your permission.
WEB TRADING COMPANY DOES NOT SELL YOUR DATA
Web Trading Company will not sell your personal information to third parties and will only make it available to third parties involved in the execution of your order. Our employees and third parties engaged by us are obliged to respect the confidentiality of your data.
E-MAIL NEWSLETTER
When you register on the site or place an order, you will periodically receive a newsletter. This newsletter only contains information about promotions with the products on our site. We do not send newsletters about other companies or sites and do not pass on your email address to third parties.
You can unsubscribe from the newsletter in several ways:
Via the unsubscribe link at the bottom of the newsletter.
By sending an email to our Helpdesk (
info@libiforme.com
)
In your account you can also select whether or not you want to receive newsletters.
COOKIES
Cookies are small pieces of information that are stored on your computer by your browser.
Web Trading Company uses cookies to recognize you for the following purposes:
the ability to place and store products in the shopping cart
to remain logged in to the site
to collect and improve information about the use of our services
Web Trading Company uses Google Analytics to obtain website statistics in order to provide personalized offers. Google uses one or more cookies to compile these statistics
If you have any questions about the Privacy Policy, please contact us.
Our Helpdesk will help you further if you need information about your data or if you want to change it. We give full disclosure about your personal data and change or delete it. You can also change your personal details in 'My account' on our site. In case our Privacy Policy needs to be changed, you will always find the most recent information on this page.
The General Terms and Conditions, including this privacy policy, apply to every site visit, transaction or agreement via our site. This is made known before entering into any agreement by reference to its text.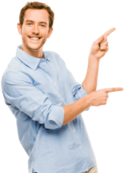 Questions or remarks? Get in touch
Do you have a question or comment? Or do you want to become a reseller? Get in touch.